Are you considering a new landscape project? Allow the professionals at Apple Blossom Landscape to create and install the design that reflects your personality and compliments your home.
Are you having trouble picturing your new landscape? Wouldn't it be helpful to know what your new landscape would look like before the first the shovel of soil is turned?
Apple Blossom Landscape offers Computer Enhanced Design which allows you to view your home with the landscape concept already installed.  This gives you a great visual for what your finished project could look like and will aid in the design process.
Harvey will visit with you, discuss your ideas and concerns, and will talk about color, concept, budget and design. Another meeting will be arranged to review the design and proposal. When you are ready, your project can be scheduled for installation and our professional and friendly crew members will bring the design to life.
Perhaps your existing landscape needs a fresh new look.
Let Apple Blossom Landscape will assess your current design, discuss what to retain and suggest ways to renew the look of your home. Like an original landscape design, you will talk about your concepts and concerns; discuss color, budget and new design.
Be sure to check out our gallery of before and after pictures
in our galleries!
Other Services
Many of our clients have enjoyed the benefit of enlisting Apple Blossom Landscape to general contract and/or work in harmony with other exterior services, to expedite the complete outdoor project.  Some of those services include, but are not limited to: installation of irrigation, swimming pools, outdoor kitchens, pergolas, decks, deck and paver sealing, fencing, surround sound and outdoor internet service.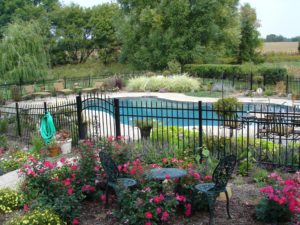 Along with Harvey's 35 years of landscape knowledge, he also has construction experience having built several homes and the experience to save our client's time overseeing the installation, trouble- shooting any unforeseen complications. We are also able to save our client's project funds by placing the installations of more than one project in the correct order, so that one contractor does not do unnecessary damage to another contractor's work. This allows the client to enjoy the progress of the project without the concern of each detail.
top notch professionalism
"We couldn't be more happy. Everything looks fantastic. Top notch professionalism and courtesy from start to finish."
Candy
West Chicago
2018-02-18T17:37:15-06:00
"We couldn't be more happy. Everything looks fantastic. Top notch professionalism and courtesy from start to finish." Candy West Chicago
https://appleblossomlandscape.com/testimonials/we-love-our-project/
above and beyond expectation
"I was impressed with how well the crew worked as a team. They were friendly and knowledgeable above and beyond expectation! I won't hesitate to use you in the future!!"
Cheryl
Lombard
2018-02-18T17:41:17-06:00
"I was impressed with how well the crew worked as a team. They were friendly and knowledgeable above and beyond expectation! I won't hesitate to use you in the future!!" Cheryl Lombard
https://appleblossomlandscape.com/testimonials/this-is-great/
easy to work with
"Harvey was so pleasant and easy to work with. He was very responsive to call and email and always took his time when working with us."
Rob & Stacie
Downers Grove
2018-02-18T18:43:27-06:00
"Harvey was so pleasant and easy to work with. He was very responsive to call and email and always took his time when working with us." Rob & Stacie Downers Grove
https://appleblossomlandscape.com/testimonials/easy-to-work-with/
friendly and professional crew
"Great job redesigning our front landscape. Excellent workmanship, friendly and professional crew. I can highly recommend this company."
Stacey
Naperville
2018-02-18T18:47:02-06:00
"Great job redesigning our front landscape. Excellent workmanship, friendly and professional crew. I can highly recommend this company." Stacey Naperville
https://appleblossomlandscape.com/testimonials/friendly-and-professional-crew/
a stress free experience from start to finish
"We love our outside area and have received many compliments. A wonderful and stress free experience from start to finish!"
Susan
Glen Ellyn
2018-02-18T19:00:42-06:00
"We love our outside area and have received many compliments. A wonderful and stress free experience from start to finish!" Susan Glen Ellyn
https://appleblossomlandscape.com/testimonials/a-stress-free-experience-from-start-to-finish/
we look forward to working with you again
"The whole experience was excellent! We look forward to working with you again in the future!"
Meagan
Elgin
2018-02-18T19:03:44-06:00
"The whole experience was excellent! We look forward to working with you again in the future!" Meagan Elgin
https://appleblossomlandscape.com/testimonials/we-look-forward-to-working-with-you-again/
will be my design go to company always
"Very pleased with quality, design, and professionalism of entire staff. Will be my design go to company always."
Tom
South Elgin
2018-02-18T19:05:07-06:00
"Very pleased with quality, design, and professionalism of entire staff. Will be my design go to company always." Tom South Elgin
https://appleblossomlandscape.com/testimonials/will-be-my-design-go-to-company-always/
thrilled with our whole experience
"We were thrilled with our whole experience; From Harv's design to Jake's oversight of the project, everyone was kind, professional, and went above and beyond to make sure our yard looked exceptional, even down to the smallest detail. We were especially impressed with the way the whole staff spoke to one another. What harmony! Can't wait to work with you again!"
Rob & Jen
Elgin
2018-02-18T19:13:45-06:00
"We were thrilled with our whole experience; From Harv's design to Jake's oversight of the project, everyone was kind, professional, and went above and beyond to make sure our yard looked exceptional, even down to the smallest detail. We were especially impressed with the way the whole staff spoke to one another. What harmony! Can't wait to work with you again!" Rob & Jen Elgin
https://appleblossomlandscape.com/testimonials/thrilled-with-our-whole-experience/