See Your Home in a Whole New Light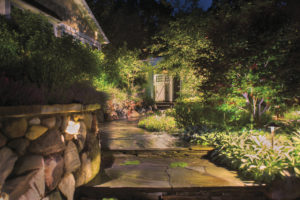 Provide warmth, beauty and security by adding LED Landscape Lighting to your landscape.
LED lighting  also provides the homeowner with economical and energy-saving options that don't require bulbs to be changed and settings to be programmed.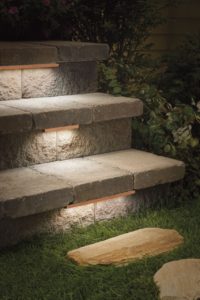 Apple Blossom Landscape offers resort quality landscape lighting using only Kichler products to enhance your home.
Enjoy the freedom of entertaining day or evening on a patio illuminated by
Not sure if you will enjoy landscape lighting? Apple Blossom Landscape gives you the option of experiencing lighting installed at your home with a Free Landscape Lighting demo*. Contact us to schedule your own lighting demo.
Why We Use Kichler Lighting
Apple Blossom chooses to use Kichler landscape lighting products exclusively due to the high quality of the materials and high standards of construction on their LED bulbs and each light fixture.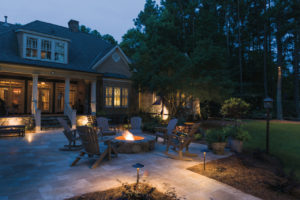 Kichler's light fixtures are integrated LED light fixtures and come assembled as one complete piece. If an element in a fixture isn't working, they stand behind their product with an industry leading 15 year warranty, and the entire fixture is replaced.
Combine the quality of Kichler products with our 25 year experience in creating outdoor night lighting settings and you are sure to be pleased with your investment.
The Best Warranty in the Business
Apple Blossom offers an exceptional warranty on all lighting projects we like to call "The best warranty in the business." It includes:
5 year workmanship and fixture warranty on all new installations*
15 Year Warranty on LED Fixtures including the bulb*
Lifetime limited warranty on Stainless Steel Transformers*
*Restrictions apply, see the complete warranty
top notch professionalism
"We couldn't be more happy. Everything looks fantastic. Top notch professionalism and courtesy from start to finish."
Candy
West Chicago
2018-02-18T17:37:15-06:00
"We couldn't be more happy. Everything looks fantastic. Top notch professionalism and courtesy from start to finish." Candy West Chicago
https://appleblossomlandscape.com/testimonials/we-love-our-project/
above and beyond expectation
"I was impressed with how well the crew worked as a team. They were friendly and knowledgeable above and beyond expectation! I won't hesitate to use you in the future!!"
Cheryl
Lombard
2018-02-18T17:41:17-06:00
"I was impressed with how well the crew worked as a team. They were friendly and knowledgeable above and beyond expectation! I won't hesitate to use you in the future!!" Cheryl Lombard
https://appleblossomlandscape.com/testimonials/this-is-great/
easy to work with
"Harvey was so pleasant and easy to work with. He was very responsive to call and email and always took his time when working with us."
Rob & Stacie
Downers Grove
2018-02-18T18:43:27-06:00
"Harvey was so pleasant and easy to work with. He was very responsive to call and email and always took his time when working with us." Rob & Stacie Downers Grove
https://appleblossomlandscape.com/testimonials/easy-to-work-with/
friendly and professional crew
"Great job redesigning our front landscape. Excellent workmanship, friendly and professional crew. I can highly recommend this company."
Stacey
Naperville
2018-02-18T18:47:02-06:00
"Great job redesigning our front landscape. Excellent workmanship, friendly and professional crew. I can highly recommend this company." Stacey Naperville
https://appleblossomlandscape.com/testimonials/friendly-and-professional-crew/
a stress free experience from start to finish
"We love our outside area and have received many compliments. A wonderful and stress free experience from start to finish!"
Susan
Glen Ellyn
2018-02-18T19:00:42-06:00
"We love our outside area and have received many compliments. A wonderful and stress free experience from start to finish!" Susan Glen Ellyn
https://appleblossomlandscape.com/testimonials/a-stress-free-experience-from-start-to-finish/
we look forward to working with you again
"The whole experience was excellent! We look forward to working with you again in the future!"
Meagan
Elgin
2018-02-18T19:03:44-06:00
"The whole experience was excellent! We look forward to working with you again in the future!" Meagan Elgin
https://appleblossomlandscape.com/testimonials/we-look-forward-to-working-with-you-again/
will be my design go to company always
"Very pleased with quality, design, and professionalism of entire staff. Will be my design go to company always."
Tom
South Elgin
2018-02-18T19:05:07-06:00
"Very pleased with quality, design, and professionalism of entire staff. Will be my design go to company always." Tom South Elgin
https://appleblossomlandscape.com/testimonials/will-be-my-design-go-to-company-always/
thrilled with our whole experience
"We were thrilled with our whole experience; From Harv's design to Jake's oversight of the project, everyone was kind, professional, and went above and beyond to make sure our yard looked exceptional, even down to the smallest detail. We were especially impressed with the way the whole staff spoke to one another. What harmony! Can't wait to work with you again!"
Rob & Jen
Elgin
2018-02-18T19:13:45-06:00
"We were thrilled with our whole experience; From Harv's design to Jake's oversight of the project, everyone was kind, professional, and went above and beyond to make sure our yard looked exceptional, even down to the smallest detail. We were especially impressed with the way the whole staff spoke to one another. What harmony! Can't wait to work with you again!" Rob & Jen Elgin
https://appleblossomlandscape.com/testimonials/thrilled-with-our-whole-experience/